Are you thinking of doing some renovations to your home? Perhaps you want to add more value to your home as an investment? In any case, it is always a good idea to go for home improvements that will increase your property's home value to the utmost you can. In fact, stamped concrete is one of these valuable concrete renovations that can be a great investment.
Newly discovered construction technologies have unlocked new design possibilities. This is where stamped concrete takes place. If you're not too familiar with stamped concrete, they are also the types of concrete usually called textured or imprinted concrete, which replicate or imitate many kinds of stones, such as slate and flagstone, tile, brick, and even wood. 
These stamped concretes are highly versatile in terms of pattern and color choices. Although getting concrete stamped is mainly for appearance purposes, stamped concrete also retains the many benefits that concrete has, which are that it requires less maintenance, has great durability, resistance to elements, and is fairly cheap.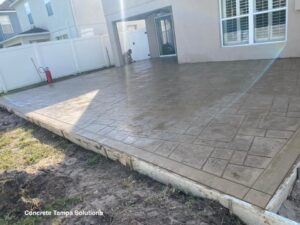 Increase home value 
Here are some how stamped concrete can add value to your home:
Aesthetic Appeal
The biggest reason why homeowners choose to have their concrete surface stamped is the addition to the visual appeal that it provides. Stamped concrete, in particular, has almost unlimited options when it comes to the appearance and design it can take.
You can choose and customize your concrete surface depending on the style of your landscape and architecture. The patterns and colors that you choose can be made to blend with other existing stone, tile, or textured concrete elements. You can pretty much pick designs that match or contrasts the surrounding area to emphasize the design, you're free to choose what you like.
Although grey and other earthly tones of color are the most common color concrete uses, stamped concrete also uses other textures and colors. You're also free to choose whichever pattern you want for your concrete, but some of the more popular options are natural stone patterns such as slate, flagstone, and fieldstone. What's more is you can even imitate natural stone, and even wood.
Low-Maintenance Costs
Even when a concrete surface is stamped, they still retain normal concrete capabilities, and naturally, this includes the very easy and inexpensive maintenance cost. There are many durable alternatives with long life spans, but out of all of them, concrete is one of the easiest to maintain. Other options such as bricks and paving units may shift over some time. 
This means that they would need some releveling or replacement. But there's more required for this, such as refilling the joints between paving units with some sand, this would prevent weeds from growing between them.
Performance And Strength
Stamped concrete also retains the durability it has as when it was just a simple concrete surface. Not to mention, when the material you use is strong and durable, your surface will ultimately last a very long time, making the investment more worth it. Concrete is widely-known to be a durable material to prove it, concrete is even usually used in industrial builds, solidifying its credibility.
Affordability
As briefly mentioned, concrete is generally cheaper. You can save as much as 50% on your surface by choosing concrete. You are expected to only pay anywhere from $5-$18 per square foot with concrete. Even with some additions such as getting concrete stamped for better design, it would still be between $12-$18 per square foot, while getting texture concrete would cost about $6-$9 and above per square foot.
Safety
As concrete doesn't get easily damaged so long as it is maintained and handled well, the only other time it can get damaged is due to its old age. However, before all that, you can be at ease that your concrete surface will not be damaging other objects 
Contact Us
If you're planning to install a new surface for your property, be it a pool deck, patio, driveway, or anything else, concrete can be great construction material, after all, it has plenty of benefits with the addition of using stamped concrete, which boosts its design capability even more. Our professional concrete contractors can offer you quality concrete services that will give you an attractive stamped concrete surface.